Rules and regulations, guidance and support
As a manufacturer, you have your eye on the many challenges that come with your industry. The professionals at SDK have been there before and stand ready to offer ideas for increased efficiencies, keep you up to date on new rules and regulations, and serve as a sounding board as you grow your business.
Our manufacturing companies services include the following areas:
Audit and Assurance
Tax Compliance and Planning, R&D Studies
Financial Reporting and New Accounting Standards Implementation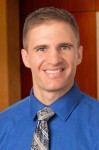 Contact Brandon Reinschmidt today for more information on our manufacturing industry expertise.