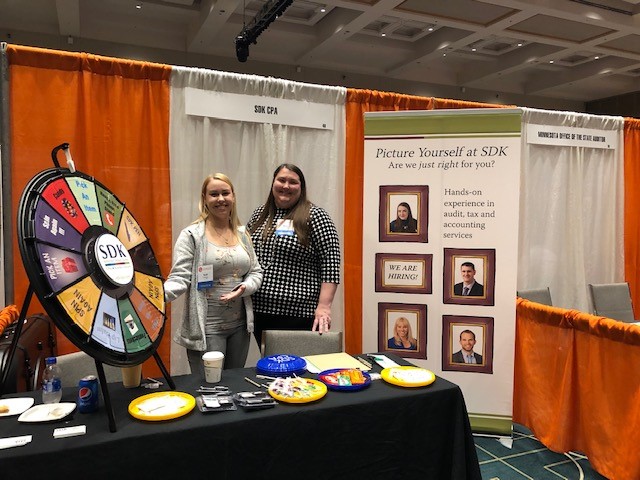 Each fall, SDK's HR director, Tiffany Hand, along with some SDKer's, travel the midwest to find the next great group of people to join the SDK team. Although not yet scheduled for 2020, the 2019 visits are below, and likely reflect the colleges we will visit this fall.
Are you ready to launch your accounting career with a firm that cares not only about clients but also about its employees? At SDK you'll find we immediately focus on your professional development, ensuring you are set for a challenge the minute you walk in the door. You'll find little hierarchy and lots of first hand exposure.
In this unusual year, we'll be recruiting virtually as we try to maintain our visits and interviews, reaching as many qualified candidates as possible. Although we typically invite candidates to our offices, to meet SDKers and have a look at our space, this year, our short video will take the place of in person contact.
Here is where you will find us:
University of Wisconsin Eau Claire September 17
Iowa State Meet the Firms September 22
University of Minnesota Duluth Job Fair September 24
University of Wisconsin La Crosse Job Fair September 28
Accounting & Auditing Student Conference September 29
So… what about? You have questions about the firm, what the work load is, what we enjoy about our jobs? Well we have answers! Watch this video of some recent SDKers who just a short time ago had the same questions! (warning, it's 9 minutes!).
Questions about our college recruiting schedule or how you can find us? Want to send your resume prior to an event? Don't see your school listed but you'd like to talk to us? Email our HR director, Tiffany Hand. She's looking forward to talking with you.
To view our current openings, click here.
SDK CPAs is an EEO/AA employer.