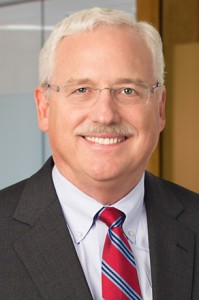 Litigation Support Shareholder
jkenyon@sdkcpa.com
612.332.9304


Professional Experience
Mr. Kenyon has over forty years of experience in accounting, auditing and tax practice at Schechter Dokken Kanter. His industry experience, relating to both privately and publicly held companies, covers a wide variety of industries including but not limited: to manufacturers; multi-location retailers; wholesale distributors; convenience food store chains; beauty salon chains; restaurant chains; franchisers and franchisees; non-profit organizations; leasing companies and hotels.
Mr.Kenyon provides forensic accounting and valuation service to legal counsel and their clients. These services include developing economic damage studies (e.g. commercial litigation, trademark and patent infringement, business interruption, wrongful death, etc.) or rebutting them, forensic accounting, fraud and financial investigations, working as a neutral fact finder on business appraisals, business valuations, expert testimony, assistance with discovery and analyses of documents and financial data. He also has experience in dealing with companies in bankruptcy or work out situations and providing arbitration or mediation services to resolve business and professional disputes.
Click here to download my v-card.
Professional Certifications
Certified Public Accountant
Certified Fraud Examiner
Accredited in Business Valuation
Certified in Financial Forensics
FINRA Dispute Resolution Arbitrator
Education
University of Minnesota, B.S. in Accounting with distinction
University of Minnesota, Master in Business Taxation
Professional Organizations
AICPA, Member of Council, 10/1/90 – 9/30/94
MNCPA, Past President, 4/1/91-3/31/92, Member of Board of Directors, Past Chair – Professional Ethics, Community Service and Editorial Committees, Legislative Affairs
Institute of Management Accountants
Minnesota Justice Foundation, Board Member, Treasurer
National Association of Forensic Economists
American Bankruptcy Institute
Institute of Business Appraisers, Past President and Board Member, North Central Chapter
Association of Certified Fraud Examiners
American Arbitration Association, Panel Member
ADR Section of Minnesota State Bar Association, Past Chair
Association of Insolvency and Restructuring Advisors
Community Involvement
Turnaround Management Association, Past Board member and President of the Minnesota Chapter
Licensing Executives Society, Inc. (U.S.A. & Canada)
Board advisor to several charitable organizations
When I'm not working…
I enjoy skiing, fishing and reading.